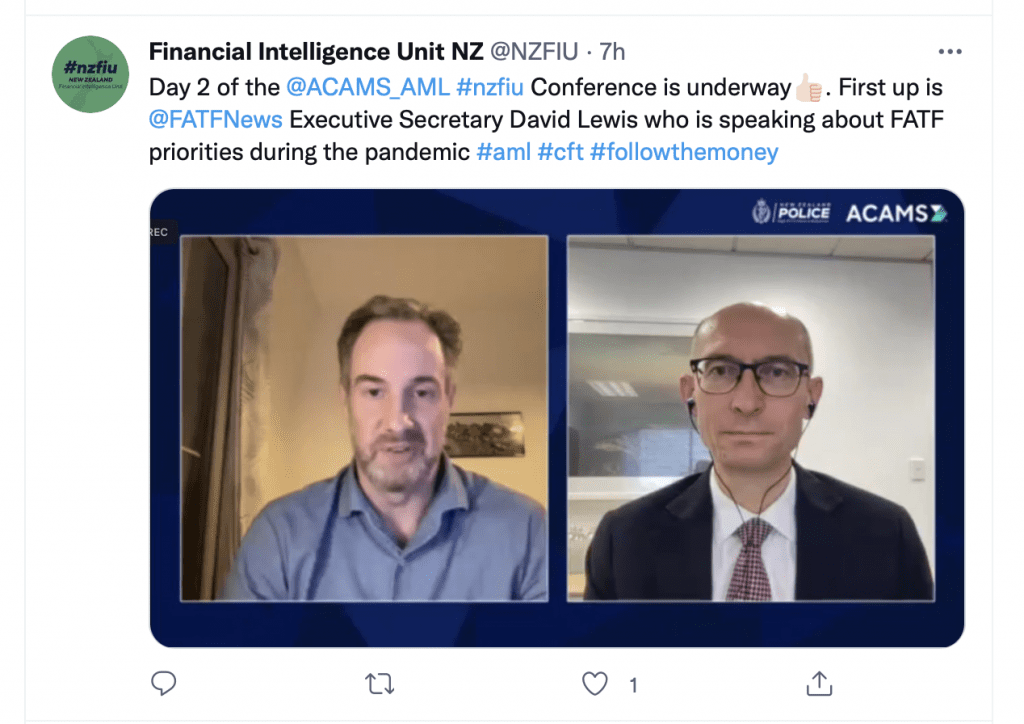 The NZ Police Financial Intelligence Unit (FIU) annual conference is probably the largest financial crime event in New Zealand or Australia (450+ attendees over 2.5 days)
For 8 years now, Gary Hughes has been involved on the organising committee, chairing and presenting, along with other experts including local and international ACAMS connections (the Association of Certified Anti-Money Laundering Specialists).
Highlight of the 2021 Conference for Gary was the opportunity to host a rich conversation at the FIU/ACAMS conference with David Lewis, chief executive at the Financial Action Task Force (FATF).
Despite pressing well past 10pm Paris time, David was a generous fount of expertise, straight-talking and thoughtful – as ever. Our virtual attendees throughout the Southern Asia-Pacific region enjoyed hearing all about the FATF October 2021 Plenary outcomes fresh off the wire, just days after it was held, along with discussion of these important topics:
Use of Technology in the fight against financial crime
Strategic Review & Unintended Consequences
As David comes to the end of his term in charge at FATF at Xmas 2021, Gary would join many other voices in paying tribute to his willingness to engage, at all levels from the G-20 nations to the grassroots. Over 6 years, he has helped transform the perception and improved the crime-fighting effectiveness of the FATF, for which we should all be grateful.
Gary runs a successful "AML Interview" session each year at this Conference, hosting a detailed conversation with international financial regulatory leaders at the cutting edge of high profile cases.  In past years that has included popular interviews with:
For copies of Gary's slides or video from past AML Interview presentations, please email or WhatsApp him or contact via this website.
The big AML Interview: David Lewis FATF Exec. Secretary at NZ Police conference Oct 2021